THE WAIST CINCHER
FOR THAT EXTRA TIGHTENING...
Body Face Image Solutions Med SPA Roswell, GA with 20 years of experience in the Beauty Industry
A great holistic alternative to a traditional surgical Tummy Tuck. Our custom treatments extract and decrease fat pockets non-surgically, all while creating and defining the curves you always desired, without any downtime
The Waist Cincher is an alternative to a tummy tuck. This option covers your stomach as well as your waist. We use frequencies to melt and kill fat in the targeted areas desired while using other frequencies to tighten and lift the skin molding the body to the desired shape.
Feedback from Happy Clients
---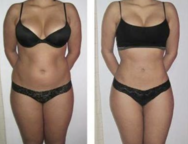 "As a professional body builder, I have been always concerned about my physique, but have never been able to get a shapely waist. I took a doubtful shot in the dark going the Face Body Image Solutions, only to discover my dreams were finally attainable. Not only am I a figure 8 now, but I also got a non-invasive face lift! I will be a life long member of the FBIS Club!"
–Terri S.
"All my life I have had terrible stretch marks. 4 treatments, and I look 15 again. I can wear whatever I want without shame! I will recommend this to everyone, especially Mothers!"
– Keshanya W.